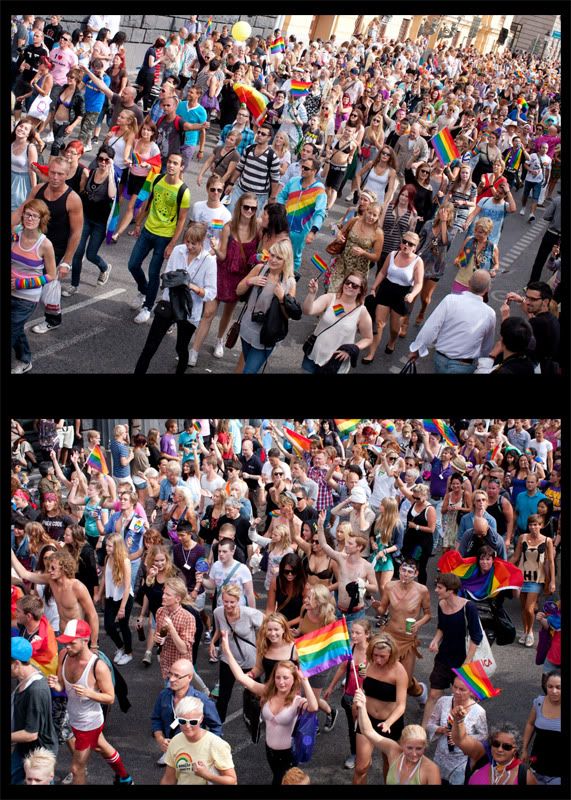 Photos by Matias O -
[link]
Me and *
Jontamar
went to Stockholm Pride last saturday when the big parade would take place, and we had such an awesome time!

Our intentions were to look at the start of the parade and then grab something to eat, but we ended up walking in it (3 hours walk! I was so hungry at the end I almost wanted to faint! XD), and wow... just wow.
I'm still amazed at all the love and joy you experience when you join the Pride Parade!
All kinds of people were there... All kinds of genders and sexualities. Parents with baby carriages and young children to sweet old people. People from Sweden, Norway, Iran, Kurdistan and Africa etc...
Politicians, firefighters, police, doctors, actors, musicians...
Wherever you looked, someone would always smile at you, and at the end of the day my cheeks hurt so much. XD
The love that Pride spreads always gives me hope that the world might not be such a horrible place after all. With all the cruel and evil things that's happening...
There are still a lot to work on of course.
Not everyone can live the life they want and a lot of people have to hide who they really are. I'm still disgusted that homosexuality is a crime (sometimes leading to death) in some parts of the world!
But that's why it's important to keep on having Pride every year.
Sweden have a lot to work on when it comes to LGBT-issues, but I'm still proud over the fact that we are one of the highest ranked countries in the world when it comes to LGBT-rights.

Be Proud.

Tomorrow will be a really special day for me, cause I will FINALLY, after 11 years, see GACKT live!!!
He was one of the absolute first japanese singers I listened to when I was younger (along with Ayumi Hamasaki), and I always adored his voice and beautiful songs.

And he is such a beauty himself too *drools*
But just like many japanese artists, most of them are always out of reach...
Especially Gackt, since he's one of Japans biggest stars ever. He holds the male soloist record of most top 10 singles in Japan music history.
So when I heard Gackt was coming to Sweden with his "yellow fried chickenz"-tour I just freaked out!! XD We got tickets, and it's like my brain still can't accept that I will see him live tomorrow!
It's so unreal and I... just don't know what to expect.
In a way, I'm pretty sad. Cause after I've seen Gackt... what happens next?
It's such a big goal for me to see him in concert, that I can't see what comes after that...
But of course I'm mostly happy and I will enjoy it to the fullest with *
Jontamar
, ~
Laiochan
, ~
Luna-JMS
and my adorable little sister.

LET TOMORROW COME!